More than 700 industrial enterprises stopped working in Kyiv, and construction volume decreased by 72.8%
For the military year of 2022, only 417 of the 1,140 largest industrial enterprises in Kyiv continued to operate at the end of the year. This is stated in the annual report of the Kyiv City State Administration.
Volumes of industrial production in the capital decreased by 30.6%, the number of workers in the industrial sector halved to 60,000 people. At the same time, the volume of sold industrial products of enterprises that continued to work increased by 6.2% compared to 2021, to UAH 503 billion.
The war led to the closure of 10% of commercial companies in Kyiv in 2022. Only 45% of businesses were fully operational, 42% partially operational at the end of the year.


Capital investments decreased during the year by 15.8%, to UAH 143.1 billion.
Construction volumes decreased by 72.8% compared to 2021. The number of residential stock put into operation fell by 53.7% (to 990,100 sq. m), non-residential stock fell by 46.5% (to 481,000 sq. m).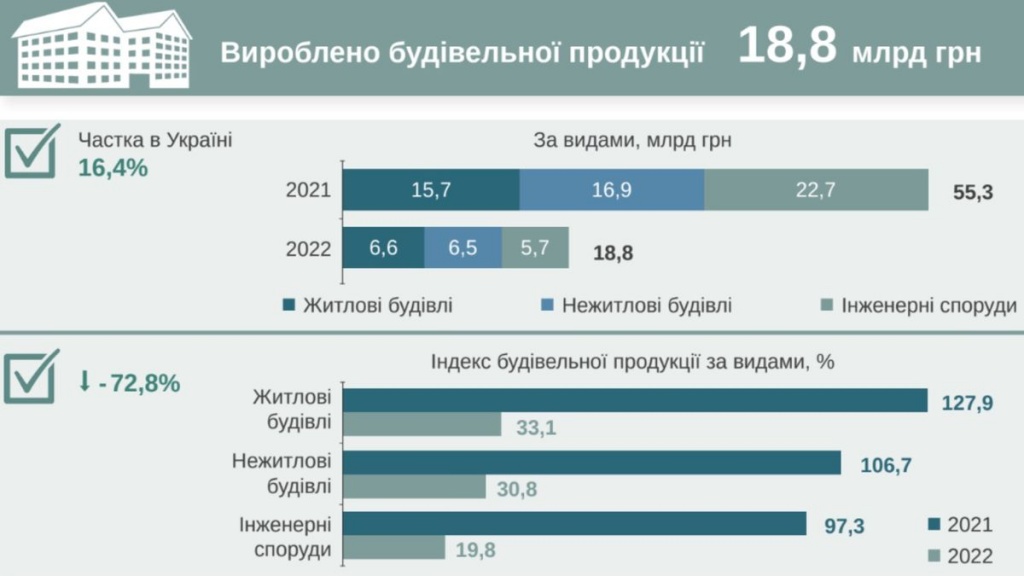 Exports decreased by 31.7% to $10.4 billion, imports by 29.1% to $22 billion.
The number of domestic tourists to the capital fell by 12.2 times, foreign tourists - by 10.4 times.
The average monthly salary in Kyiv for 2022 increased from UAH 21,700 to UAH 25,400.
https://budport.com.ua/news/27180-u-kiyevi-zupinili-robotu-ponad-700-promislovih-pidpriyemstv-a-obsy...
Back to the list