The Ukrainian coat of arms was installed on the shield of the Motherland
In Kyiv, on Sunday, August 6, a trident was installed at the "Motherland-Motherland" monument in the place where the Soviet symbols used to be. Previously, Ukrainians voted for such a change in a poll conducted last year in the Diya application.
The trident was supposed to be raised on Saturday at 18:00, but due to an air alarm, the work was delayed for almost two and a half hours.
As a result - due to bad weather and air alarms - the trident was raised only 24 meters on Saturday and continued work on Sunday morning. The trident must be fixed at a height of 90 meters, and all work related to the replacement of symbols on the "Motherland" must be completed by Flag Day. The dimensions of the Trident are 4.5 by 7.5 meters. The weight of the metal product is up to 500 kilograms.
After the installation of the trident, the Ukrainian flag was raised above the shield. The next stage of work will be welding. A team of Ukrainian climbers was involved in fixing the trident on the shield, Suspilne reported.
The Ukrainian trident for the reconstruction of the "Motherland-Motherland" monument was made of European steel. Decommunization of the monument cost a total of 28 million hryvnias. The updated version of the monument is planned to be opened on Independence Day, August 24.
In addition, previously the general director of the Museum of the History of Ukraine Yuriy Savchuk said that the monument will be renamed: instead of "Motherland-Motherland" it will be "Ukraine-Mother".
At first, it was assumed that the trident would be made of Ukrainian steel, smelted at the Zaporizhstal plant. Later, the Ministry of Culture and Information Policy stated that the Zaporizhia steel had defects, but the plant did not agree with this.
On July 30, the Soviet coat of arms was removed from the shield of the Motherland-Mother monument in Kyiv. On the first day of work, a part of the structure weighing 80 kg was removed, and the entire Soviet symbols were dismantled on August 1.
The monument "Motherland-Motherland" was built in 1981, it is a monument of science and technology of local importance. The monument is considered the tallest monumental sculpture in Europe: the height of the sculpture (from the pedestal to the tip of the sword) is 62 meters, and the total height (including the pedestal) is 102 meters. The weight of the monument is 450 tons.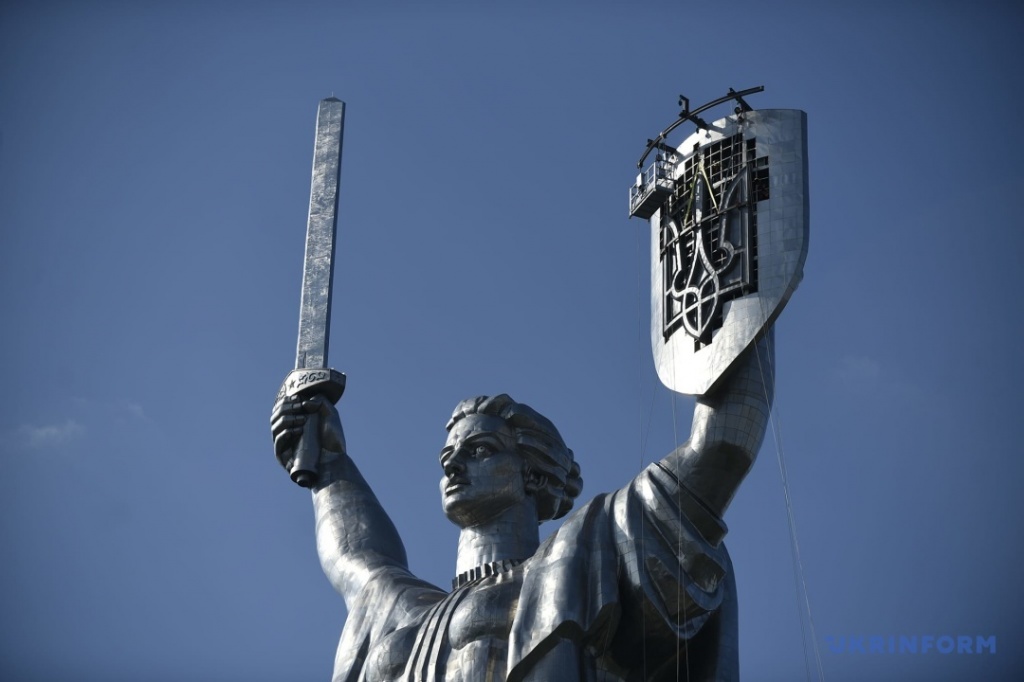 https://budport.com.ua/news/27163-na-schiti-batkivschini-materi-vstanovili-ukrajnskiy-gerb-foto-vide...
Back to the list